J5 Create JUA365 USB™ 3.0 to Dual HDMI™ Multi-Monitor Adapter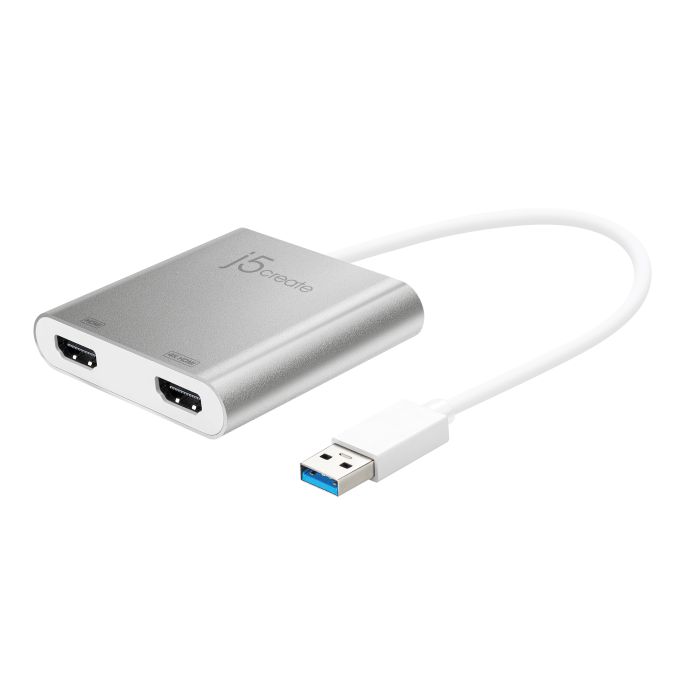 j5create JUA365 USB™ 3.0 to Dual HDMI Multi-Monitor Adapter, Silver, 3.2 Gen 1 (3.1 Gen 1), USB Type-A, HDMI output, 3840 x 2160 pixels
suggested retail price
£55.56
| Vendor | Vendor Product Name | Vendor Part Code | ET Price Code |
| --- | --- | --- | --- |
| J5 Create | J5 Create JUA365 USB™ 3.0 to Dual HDMI™ Multi-Monitor Adapter | JUA365 | 900005 |
Key features:
Easily add two HDMI™ video outputs through a single USB™ Type-A port 
Compatible with USB™-enabled macOS® & Windows® laptops
Compact and lightweight design for maximum portability.
4 display modes: Mirror, Extended, Primary, or Rotation*
Supports resolutions up to 3840 x 2160 @ 30 Hz & 2048 x 1152 @ 60 Hz
Hot swappable USB™ enables you to add or remove monitors without rebooting your system
USB™ 3.0 provides up to 5 Gbps transfer rate which is 10x faster than USB™ 2.0
Two adapters can be supported per Windows® computer
2-channel audio support
Description:
This USB™ 3.0 to Dual HDMI™ Multi-Monitor Adapter acts as an external video card for your MacBook® or Windows® computers. It allows you to add two additional displays through your USB™ 3.0 port, boosting your productivity by giving you more screen space to work from. One of the HDMI™ ports can output resolutions up to 4K, while the other can output resolutions up to 2048 x 1152.
This is the perfect alternative to a costly video card. With this USB™ 3.0 Multi-Monitor Adapter, you can quickly install the driver with a simple USB™ plug-in. Afterwards, connect the device to your monitors using HDMI™ cables and then you will have a dual-display workstation!
Specs:
Audio Supported - Yes
Host Connector - USB™ 3.0 Type-A Male
Power Source - Bus-powered
Video Output - 1 - HDMI™ female
Warranty - 2-Year Limited
Displays Supported - 2
Cable Length - 7.87 in. (200 mm)
Enclosure Type - Aluminium
Storage Temperature - 14 to 149°F (-10 to 65°C)
Subscribe to our Mailing List
For news, product updates, offers and more, signup to our newsletter. See our Privacy Policy here