How interactive whiteboards can transform classroom learning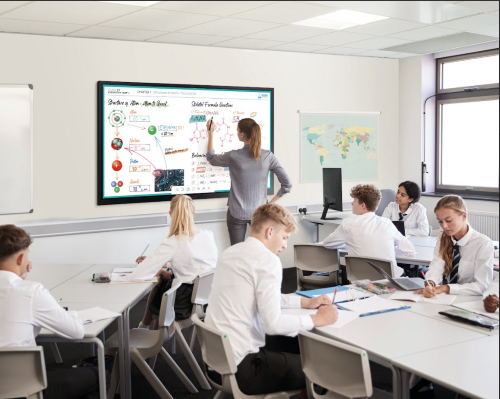 In this digital era, the days of blackboards and chalk are a distant memory. Classroom technology has advanced so rapidly in recent years, yet the fundamental aspects of teaching remain the same.
Teachers are essentially communicators. Every day you're required to step up and explain a whole host of information, concepts and ideas. Most importantly, you need to reach young people and hopefully engage and inspire them along the way.
As an established edtech supplier, we know the UK's education system can present many challenges. Interactive whiteboards are incredible tools to support primary school teachers and administrators. They enable more effective teaching and invite pupils to collaborate and engage with the learning process.
In this blog post we explain more about what interactive whiteboards are and the advantages they can bring to classroom learning. Let's explore further…
What is an interactive whiteboard?
Interactive whiteboards are large digital smart screens that enable teachers and educators to connect to the internet, give presentations, play videos and, in some cases, link to other electronic devices in your classroom. They're a useful blank canvas for your classroom, but with the very latest digital innovations.
Interactive whiteboards can be standalone or connected to a computer. In either case, they significantly enhance classroom learning, resulting in a richer and more rewarding learning experience. What benefits can they bring to your primary school classroom? Here, we highlight three key plus points.
Interactive whiteboards - key benefits for your classroom
Easy-to-use and intuitive
UK primary schools are non-stop busy and we understand that interactive whiteboards can sometimes feel like another tech tool to navigate. Educators worry about glitches, complicated operating systems and connection issues.
However, the latest interactive whiteboards are designed to be simple and intuitive for users. Their ultimate aim is to make your role easier and give you more time to spend actively teaching.
Suitable for learners of all ages, interactive whiteboards have touch-screen interfaces that allow educators and learners to interact with displays or presentations using their finger or a stylus tool. Teachers can also bring lessons to life with a range of clever, user-friendly features, such as highlighting words, clicking on buttons and dragging and dropping items on the screen.
Engaging and collaborative
With interactive whiteboards, classroom learning is no longer static and one-sided - learners become active participants in lessons. Connected to the internet, interactive whiteboards also open up a world of resources and fun ideas to support learning.
Lessons can include video or audio content, educational games and interactive materials. Young people can also participate in group problem-solving and interactive question and answer sessions.
Using interactive whiteboards, educators can meet the needs of all learners, whether they respond better to kinesthetic, auditory or visual learning styles. Information is presented in a variety of ways, helping primary school pupils to learn more effectively and retain information.
Time and resource efficient
Interactive whiteboards can be a powerful organisational tool for educators and administrators too. Teachers can prepare lessons and presentations in advance, and save or share them for future use. Learning content created on interactive whiteboards can also be used for homework materials or revision resources.
Teachers no longer need to write reams of information during lessons and read aloud from books or other physical resources. Ultimately, interactive whiteboards give you more time in the classroom for personal interactions and interesting discussions.
Using a digital resource also cuts down on printing, textbooks and stationery costs, and the general time-intensive admin of school life. Standalone interactive whiteboards can be easily moved between classrooms as well, maximising their value throughout your primary school.
Ready to find out more?
We've drawn your attention to some of the key ways interactive whiteboards can transform classroom learning, but there are a multitude of other benefits. At EdTech we're proud to offer a full range of interactive whiteboards to enhance the learning experience in your primary school classroom.
Browse our interactive whiteboards here
Contact our expert team if you have any questions - we're always happy to help.
Subscribe to our Mailing List
For news, product updates, offers and more, signup to our newsletter. See our Privacy Policy here