Avid Sibelius Ultimate Standalone 1-Year Subscription - Multiseat NEW SEAT (0100-38746-00)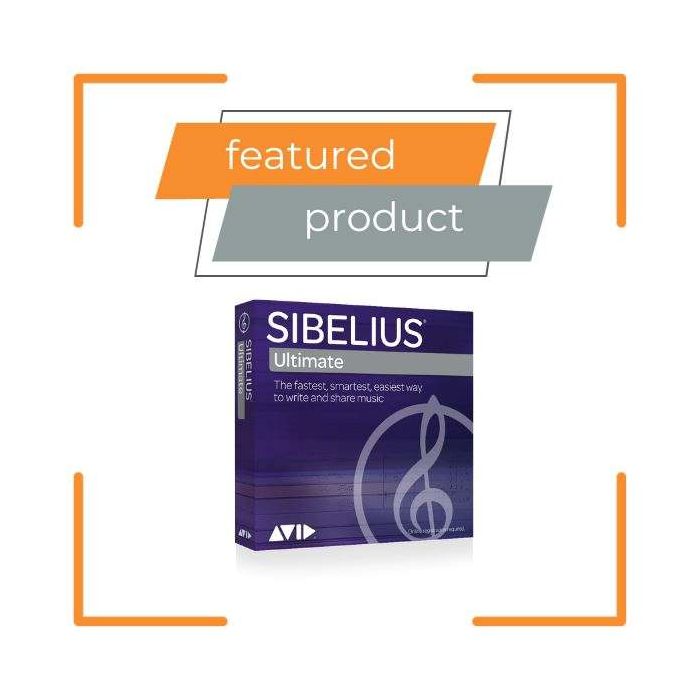 suggested retail price
£49.00
| Vendor | Vendor Product Name | Vendor Part Code | ET Price Code |
| --- | --- | --- | --- |
| Avid Music | Avid Sibelius Ultimate Standalone 1-Year Subscription - Multiseat NEW SEAT (0100-38746-00) | 494016 | 1800030 |
Product description:
From concert halls to classrooms, more composers, arrangers, publishers, and educators use Sibelius® - the world's best-selling notation software - than any other. With its sophisticated yet easy-to-use tools and Sibelius | Cloud Sharing features, Sibelius makes it easy to create, arrange, print, and share your compositions. 
Key features:
WRITE MUSIC WITH EASE - Sibelius makes music composition easy, giving you the flexibility to work anywhere using your computer or iPad. Whether you prefer to enter notes from the onscreen notation Keypad, a MIDI keyboard, your computer keyboard, or using an Apple Pencil, Sibelius takes care of all note layout, orientation, and rest details for you.
BUILD UP COMPOSITIONS - Create music for everything from piano to orchestra, with multiple instrument parts. And not just with notes and rests—you can add chord symbols, guitar tab, guitar chord diagrams, expression text, articulations, lyrics, titles, graphics, and more to give your music the detail, depth, and dynamism it deserves. You can even loop playback to improvise ideas.
HEAR YOUR MUSIC IN STUNNING DETAIL - Sibelius includes a high-quality sample library filled with a variety of musical instrumentation, so you can hear what your music will sound like when performed by real musicians. You can also plug in third-party sound libraries, such as NotePerformer, giving you more flexibility with the instrumentation you hear.
ARRANGE PARTS FAST - The Arrange feature makes it easy to orchestrate additional instrument parts from existing ones. Simply select an orchestration style and Sibelius automatically creates new parts based on your sources. You can also "explode" chords across different parts, speeding up multipart instrumentation. Or consolidate multiple parts into one with a click.
GET INTELLIGENT IMPORT - With a single click, you can import a MIDI, MusicXML, or Sibelius file into a new or existing score. All notation, instrumentation, techniques, and articulations are automatically assigned, preserving the composer's intent, and saving you hours—if not days—of clean-up time. You can even combine several scores together, with control over what's imported.
PERFECT AND REVIEW SCORES - Sibelius takes the manual effort out of adapting instrumentation, transposing parts, and adding slurs, so you can work faster. And when your score is ready, Review mode lets you lock things down, enabling collaborators to freely view your score and add comments and annotations without fear of accidentally changing anything.
Subscribe to our Mailing List
For news, product updates, offers and more, signup to our newsletter. See our Privacy Policy here